Sesame "Noodle" Salad
Are you sick of the same old leafy green salad?! Then this salad is the salad for you! This "noodle" side dish takes your healthy salad game and zucchini's to a whole new level!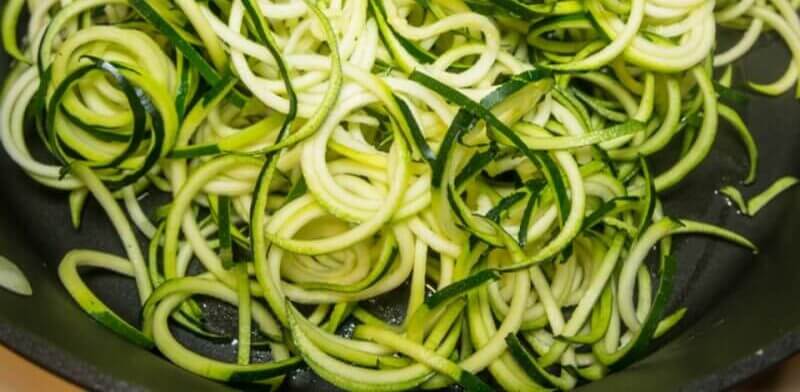 PRINT RECIPE Prep time: | Cook time: | Total time:
Yield: 4-6 people
Ingredients
1 tsp sesame seeds

1 green onion, sliced thin

1/2 a red pepper, small dice

2 medium zucchini

1 Tbsp tahini

1 Tbsp sunflower butter

1 tsp sesame oil

1 Tbsp coconut aminos (soy sauce replacement)

1 Tbsp coconut vinegar OR rice vinegar

2 cloves garlic, grated or minced

½ tsp crushed red pepper flakes

¼ tsp powdered ginger OR 1 tsp of fresh graded ginger
Directions
- Peel the zucchini, and then turn them into 1/8" noodles with a julienne peeler, spiralizer, or pro knife skills. (do not peel) Lightly salt noodles, and place in a large bowl lined with paper towel to absorb excess water.
- In a small bowl, mix the tahini, sunbutter, oil, coconut aminos, vinegar, water, red pepper flakes, garlic, and ginger with a fork until smooth.
- Lightly pat dry the zucchini noodles and pour out any excess water
- Pour the dressing over the zucchini noodles and toss gently until evenly coated. Sprinkle with the toasted sesame seeds and scallion.