Easy Vegetable Minestrone
This lovely rustic soup is wonderful with a finishing touch of grated romano cheese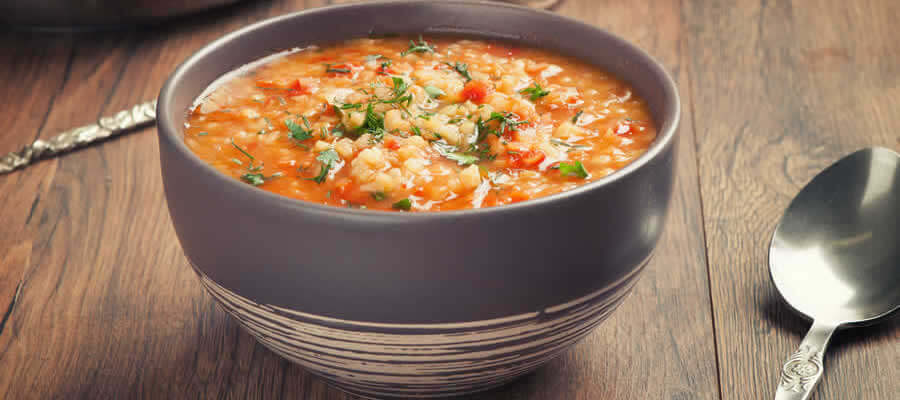 Categories: Mains, Soups,
PRINT RECIPE Prep time: 30 min | Cook time: 4 hrs | Total time: 5 hrs
Servings: 4
Ingredients
1 large onion, chopped

1 stalk celery, sliced

2 large carrots sliced or 2 cups squash or sweet potato

2 cups kale leaves, finely chopped (no stems)  * option of using baby spinach instead

1 clove of garlic, chopped

4 cups Vegetable Broth, Low-Sodium (homemade is best)

1 can diced tomatoes (14 oz. or larger) low sodium

1 can legumes (green lentils, black beans, kidney beans 19 oz.)  rinsed well

2 tbsp. tomato paste

2 tsp. Italian Seasoning

1/8 tsp. black pepper

1 cup cooked quinoa

1/4 cup basil pesto, optional but adds wonderful flavour   
Directions
Place all ingredients in a stock pot, except the kale and quinoa in the pot.                                                                        
Bring to boil and then simmer on stove top for 15 to 20 minutes. Add kale for last 5 minutes.
Slow cooker, 4 hours, add kale for last 10 minutes
Remove from heat, place a scoop of quinoa in each bowl, top with soup and pesto or cheese.
*Spinach option add 1 cup of baby spinach to the bottom of each bowl with the quinoa and then carry on with soup etc.  (this replaces the kale)
Good things about the recipe: low calorie, fat, sodium, good source of protein, fiber & whole grains, boosts immunity & promotes alkalinity.
2 servings of vegetables per bowl.   Very tasty and hardy soup.
Tagged as: Mains, Soups,