Cauliflower Pizza Crust
If you are gluten intolerant or just want to try something different and tasty this is for you!!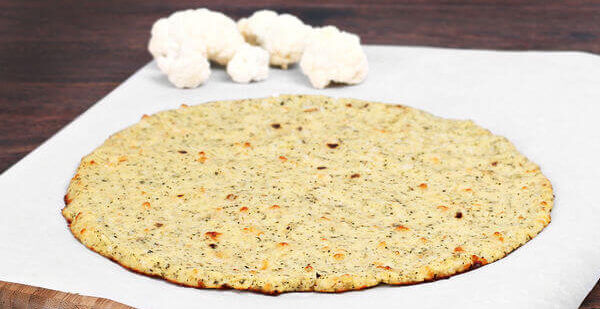 Categories: Mains,
PRINT RECIPE Prep time: 40 min | Cook time: 50 min | Total time: 90 min
Servings: 2
Ingredients
3 heads cauliflower

2 eggs

½ cup goat chevre

½ tsp dried oregano

½ tsp garlic powder

¼ tsp salt

3 Tbsp coconut flour
Directions
Blitz cauliflower one head at a time in a food processor until it's the consistency of rice.
Steam cauliflower in 1" boiling water in a covered pot 5-6 minutes.
Drain cauliflower and rinse with cold water.
Place cauliflower into center of thin cloth and forcefully squeeze out ALL water.
Form a well in cooked cauliflower rice and add all remaining ingredients. Mix well. Wrap in the fridge for at least 30 minutes to allow the dough to set.
Press cauliflower dough into thin-crust shape in parchment-lined pan.
Bake at 400F for 30-40 minutes until golden and firm.
Top with a thin layer of sauce and favorite toppings (less is more). Bake at 400F for 5-10 minutes until cheese is bubbly.

Tagged as: Mains,