Paleo N'Oatmeal
This comfort breakfast is an awesome healthy substitute for the classic oatmeal breakfast. It is super easy to make and full of good fats for strong brains!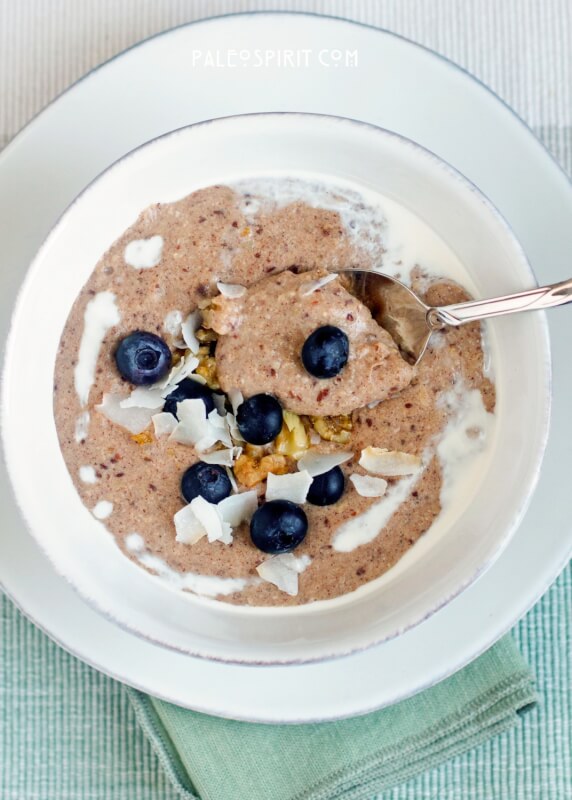 Categories: Breakfast,
PRINT RECIPE Prep time: 10 min | Cook time: 15 min | Total time: 25 min
Servings: 6
Ingredients
2 bananas, mashed

½ cup almond butter

½ cup almond meal

3 Tbsp ground flax seeds

2 whole eggs + 3 egg whites

1 tsp vanilla

½ Tbsp cinnamon

¾ cup ++ coconut milk (as needed)

assorted nuts, seeds and fruit, for serving (or museli)
Directions
Combine all ingredients and cook over medium heat to set up eggs and flax. Should start as a gruel-like consistency and become thicker like oatmeal as it cooks.
If it gets too thick, add more coconut milk. (make sure to stir the whole time, the bottom can burn easily!)
To serve, top with raisins, pecans, goji berries, coconut flakes, sunflower seeds, hemp seeds, pumpkin seeds, blueberries, banana slices, maple syrup, coconut sugar, coconut milk, etc....
Enjoy!

Tagged as: Breakfast,