Paleo Pad Thai
If you love Pad Thai, then this is for you! A healthy made version of this staple dish.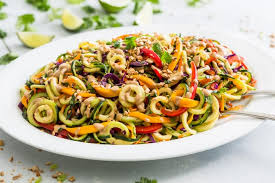 Categories: Mains,
PRINT RECIPE Prep time: 60 min | Cook time: 30 min | Total time: 90 min
Servings: 6-8
Ingredients
6 zucchini, spiralized

1 spaghetti squash, cut in half, seeds removed

Raw shrimp or protein of choice

3 shallots

5 cloves of garlic, minced

2 tsp fresh grated ginger

extra veggies of choice

3 eggs

4 green onions

Juice of 2 limes

1 cup coconut aminos (soy replacement)

1 tbsp Worchestershire sauce

2 tbsp raw honey

1 tbsp chili sauce

1 cup almond butter

1 cup coconut oil

1 cup spiced roasted nuts (of your choosing)

1 cup fresh cilantro

Salt and pepper to taste
Directions
Spice Roasted Nuts: On a baking tray, lay the nuts flat and add desired spice (cumin, chili, etc.)
Bake in oven at 375 degrees until toasted with a rich flavor. (Approx 35-40 minutes)
On a second baking dish, cook spaghetti squash face down with coconut oil and salt until tender. Once cool, remove the flesh with a fork. Toss with salt and set aside.
Using the spiralizer, spiral the zucchini. Toss with salt and let sweat over the sink for 30 minutes. Pat the noodles dry with a paper towel.
Sauté 1 garlic clove and 1 tsp grated ginger in coconut oil and toss with zucchini.
In a pot, sauté remaining ginger, garlic, and shallots in coconut oil. Add shrimp, or protein of choice, and cook fully, then set aside.
In a skillet, add grated carrots and vegetables of your choice. Add coconut oil, chili sauce, and 1/2 Worcestershire sauce, half the cilantro, green onions, and salt and pepper to taste. Sauté until all the flavors are combined. Pour in the eggs, scramble in the center of skillet, and then combine with vegetables.
- Sauce – Add coconut aminos, and other 1/2 of Worcestershire sauce, almond butter, juice of limes, honey, and salt to taste. Blend until smooth. Add water if the sauce seems too thick.
- Serve all components in a bowl together. The zucchini and squash serve as the "noodles" in the dish. The sauce gets poured over the top of the entire dish. Top with nuts, fresh cilantro, and green onions.

Tagged as: Mains,