Beet Hummus
If you love hummus then you are going to love beet hummus! Perfect for a meal with veggies and pita, as a snack on the go or in your wee ones lunch! Its packed with proteins, vitamins and minerals, along with the beets that are a superfood for your liver! This is one awesome EASY recipe.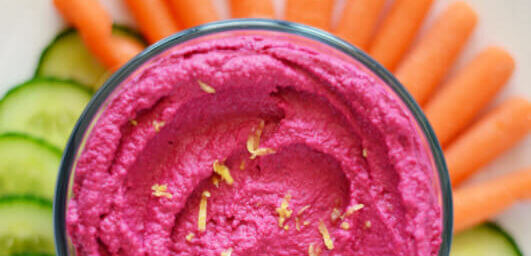 Categories: Sides,
PRINT RECIPE Prep time: 20 min | Cook time: N/A | Total time: 20 min
Servings: 6-8
Ingredients
2 cans of chickpeas (drained and rinsed - Preferably organic and GMO-free)

2-3 med beetroots (chopped)

2-3 cloves of garlic (peeled)

1/2 of a lemon squeezed

Himalayan salt to taste

1 1/2 cups extra virgin olive oil + add as needed

1 tbsp tahini (optional)
Directions
Place all ingredients into a food processor OR blender. (If the beets are cooked then just add if not then you have to cook the beets and then add to the mixer).
While it is blending slowly add in the extra olive oil till it all reaches a smooth consistency.
Taste it and add salt if needed.
Serve with pita, veggies, crackers..... enjoy!
Tagged as: Sides,