Paleo Stuffed Peppers
A protein-rich version of stuffed peppers.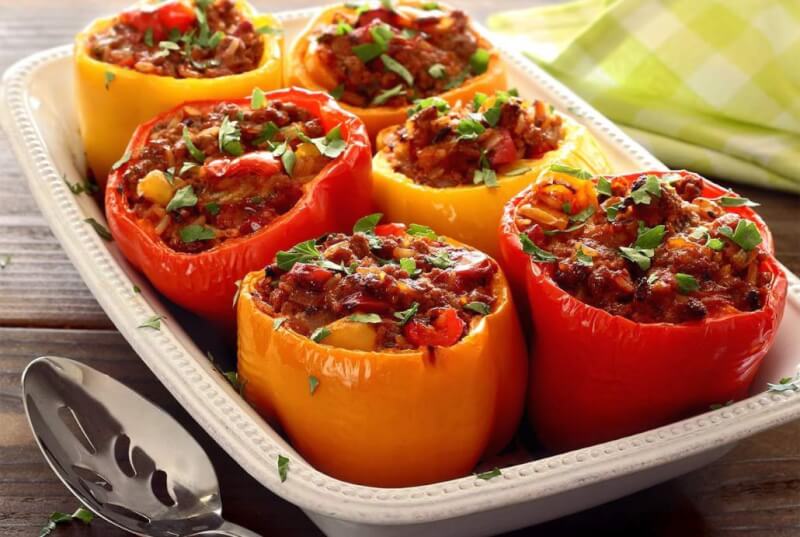 Categories: Mains,
PRINT RECIPE Prep time: 20 min | Cook time: 40 min | Total time: 60 min
Servings: 4
Ingredients
4 bell peppers red or yellow, halved and seeded

1 lb ground beef, bison, or elk

1 cup wild rice, cooked (½ cup uncooked)

1 white onion, small dice

3 cloves garlic, minced

2 celery stalks, small dice

8 button mushrooms, sliced

2 tomatoes, small dice

2 Tbsp tomato paste

1 Tbsp Worcestershire

1/3 cup blanched almond flour

½ Tbsp garlic powder

1 tsp dried oregano

salt and pepper
Directions
Cook ½ cup wild rice according to package instructions. Should yield approx. 1 cup cooked rice.
Sautee onions and garlic. Add celery and mushrooms. Add cooked ground beef. Add wild rice. Add tomato paste, spices and Worcestershire sauce.
Mix in almond flour. Adjust seasoning if necessary.
Pack mix into halved peppers. Bake on a parchment-lined baking sheet at 375F for 40 minutes.

Tagged as: Mains,